Join us as Congressman Francis Rooney updates us on what is happening in Washington and what the future holds for the nation.
Lunch: $25.00 payable on line  or pay at the door cash or check.
Francis Rooney Bio: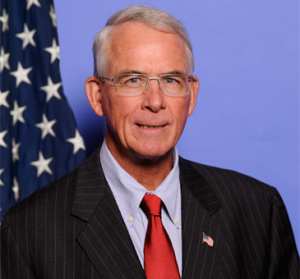 Francis Rooney represents Florida's 19th Congressional District, covering most of Lee & Collier counties. He serves on the Education and Workforce Committee, the Joint Economic Committee, and was recently promoted to Vice Chairman of the prestigious House Foreign Affairs Committee, based in part on his extensive international business experience and his tenure as U.S. Ambassador to the Holy See under President George W. Bush. He is also an active member of the Congressional Everglades caucus and the Congressional Estuary Caucus.
Congressman Rooney has been a dedicated leader in the fight for Lake Okeechobee Watershed and Everglades Restoration. He led a united Florida Congressional delegation to speak with one voice in a letter to the President reminding him of his pledge to support the Everglades. His constant and self-described "laser-like" focus on this issue has resulted in the largest-ever budget allocation for repairs to the Herbert Hoover Dike and the first time Congress has ever appropriated the full amount requested for Everglades Restoration.
Prior to being elected to congress, he served as the CEO of Rooney Holdings, Inc., a diversified investment company based in Naples, FL, with interests in construction, energy, real estate development and financial services in the United States, Latin America and Spain.
He and Kathleen, his wife of over forty years, are proud to call Southwest Florida their home. They enjoy spending time with their three children and two grandchildren.
RWSFF May 2nd Luncheon Speaker with Congressman Francis Rooney